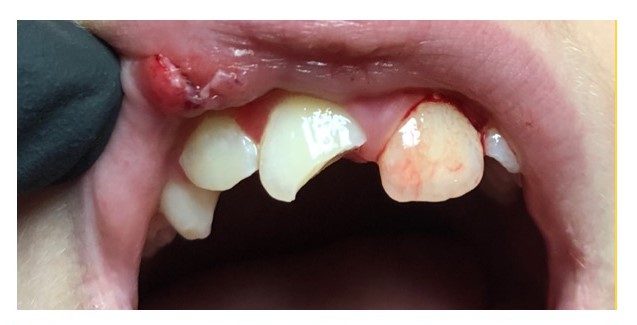 This was a tennis racket accident. Who would have thought teeth could be damaged playing tennis???
Well, this made a believer out of me. If your child is involved in ANY sport at ANY age, they NEED to be wearing a sports guard. No ifs, ands or buts about it.
Now my child will have a lifetime of issues with her two front teeth and possibly end up needing implants when she is older.
I could have prevented this by making her a sports guard.  
But I thought…she still has her baby teeth, I will wait until she is older, she is not involved in contact sports, I don't need to be making her a new guard every time she loses a tooth, that'll be too expensive….
Does this sound like the same excuses and reservations you have?
Think about the cost of the investment you make for your child now, divided by their life expectancy – literally changes your outlook. It changed mine. And you'd better believe she has one now. I don't care if she has baby teeth – I will make her a new one as often as needed.
Ultimately for the 100+ years of life your child has to live, eat, smile 😊 you are talking an investment of pennies a day.
The investment in prevention is much cheaper than a lifetime of dental issues potentially leading to overall ill-health. Why risk that?
All parents and guardians of children involved in athletics, no matter how young or if they still have baby teeth, need to invest in custom dental sports guards – ASAP. Your child's future health and well-being depend on it.
#Smile, THE number one thing you can do with your mouth!
Dr. Chobor